Make Reunion Hotel Reservations Here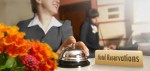 Rates are open for making reservations one year before the event which is now.   Please make your reservations now.  Your rate per room night is $99 and you are entitled to that same rate 3 days prior to and 3 days following the dates of the reunion on a space available basis.
Convention rates are open one year prior to event and can be made by web link or.  Convention rates of $99 are extended 3 days prior to and 3 days following the dates of the function on a space available basis.
One night room deposit shall be paid to confirm a reservation.  Check in time is 3 PM and checkout time is 11 AM, if rooms are available prior then the attendees may check-in.  Attendees will pay their own rooms, tax and incidentals incurred by them at hotel.
Make Reservation by Phone:  Call  toll free number 1-800-772-8527.  This number takes you right to the hotel and not to a national number where the agent might have no idea about the reunion event.    Things have changed and the hotel is under new management.  This number now will at times when reservations is closed at the hotel, take you to a national number.   The sad part is that they do not seem to be able to recognize that we have an event coming up at the Town and Country at San Diego (they answer for many hotels) and they cannot even refer us to the reservation number at the hospital.  So here is what you need to do.  If you get no satisfaction call back and ask for the sales department during business hours.  If you have any problems at all then contact Bob at 802-728-9806.  In fact contact Bob in any event so he can work to cure the problems.  When you do get someone at the hotel make sure that you inform them that you are calling for reservations for the DESTROYER USS ORLECK ASSOCIATION reunion to be held August 11-15, 2014.
[jetpack_sharing]